Varian Mercury-300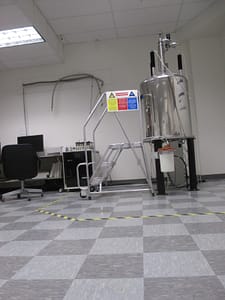 The 300 MHz Varian NMR has a broadband probe tunable to most nuclei including hydrogen, carbon, fluorine, phosphorus, nitrogen, and vanadium. It is capable of one- and two-dimensional NMR experiments. It was obtained through a grant from the National Science Foundation Instrumentation and Lab Improvement (NSF-ILI) program. 
For more information about the Varian 300 click here.
Bruker Avance-III 600 MHz
The 600 MHz Bruker NMR system includes a broadband liquids probe that can be tuned to most nuclei, an HR-MAS probe designed for proton and carbon NMR on tissues and other semi-solids, and a CP-MAS probe tunable to most nuclei for solids. It has a 60-position sample changer that allows for complete automation of experiments using the liquids probe.
For more information about the Bruker 600 click here. 
Research Projects using the NMR:
Beginning July 1st, 2018 all projects within the MIF must have a current Project Registration Form on file.
Phosphorus analysis of soils extracts.

Carbon-pool composition of permafrost impacted systems

Fate and Transformation of contaminants in the arctic

Metabolomic studies of the hibernation of the artic ground squirrel using both plasma and tissue.

Sugar analysis from tree leaves.

Small peptide structural analysis.

Complexation of vanadate species by Vanadium-NMR.

Complexation of phosphate species by Phosphorus-NMR.

Variable temperature study of reaction equilibrium.

Structural confirmation of organic synthesis products.

Study of micelle formation.
Available Resources:
Offline workstations in Reichardt room 136 and 172
Each workstation has TopSpin and Mestrenova installed for NMR analysis
Current Standard Operating Procedures for the NMR