The NIH COBRE-funded Center for Transformative Research in Metabolism (TRiM) at the University of Alaska is housed within the UAF Institute of Arctic Biology (https://www.iab.uaf.edu/) and collaborates with UAA as a partner institution. The center supports interdisciplinary biomedical research to study hibernation and metabolism with the long-term goal of developing therapies to treat metabolic diseases such as diabetes, obesity, sarcopenia, and cardiovascular disease. Center supported research uses genomic, proteomic and metabolomic data to inform target identification, and in vitro and in vivo studies in non-hibernating species to confirm efficacy of target manipulation. This work is expected to enhance healthy aging and to lessen the burden of metabolic disease and trauma.
The timeline below illustrates 60 years of scientific investigations at the University of Alaska in the field of hibernation research. The Center for Transformative Research in Metabolism builds on this intellectual infrastructure.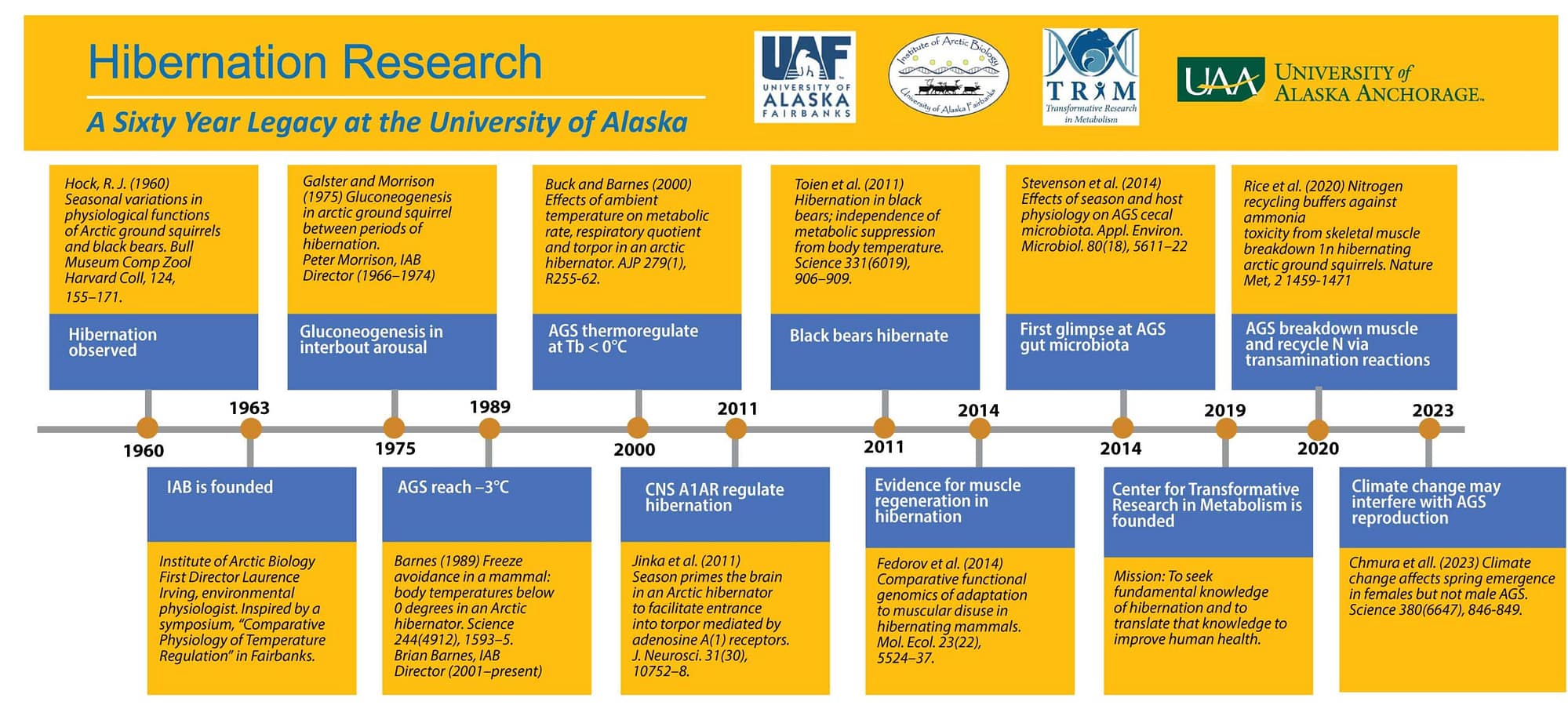 Vision, Mission, and Values
Vision: Translating hibernation research to improve human health
Mission: To seek fundamental knowledge about the nature and behavior of hibernating mammals and the translation of that knowledge to enhance human health, lengthen life, and reduce illness and disability. 
Value Statement: "TRiM"
T for Team Science: Multiple, diverse perspectives and expertise empowers great and innovative science.
R for Respect: Respecting each person for their unique perspective, expertise, and contribution to the overall effort.
I for Integrity: Helping people to be the best at what they do best and keeping a high ethical standard.
M for Motivation: Motivating oneself and others to do the job better than it has been done before in order to create a cycle of empowerment and accomplishment for both the scientific community and the Institute.